Delta's Sara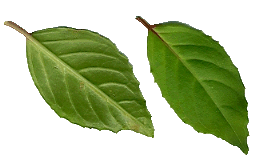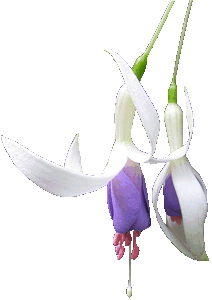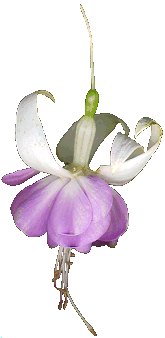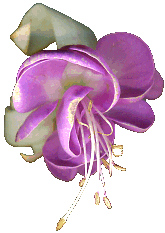 Delta's Sara - Vreeke-van't Westeinde 2001 NL HH HD wit-top L.groen lila basis wit / B/T S/D white-top L.green mauve bas. white

Ouders / Parentage : 'Hawkshead' x 'Fey'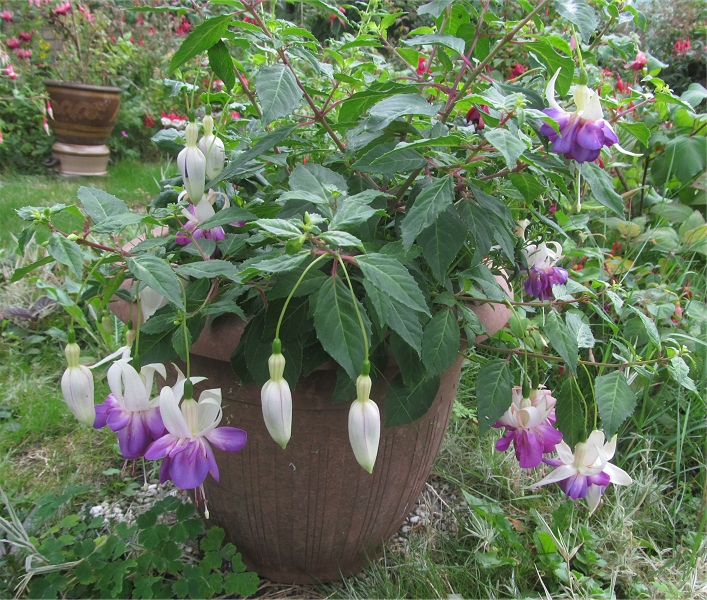 Een halfhanger met halfdubbele bloemen in de mooie klassieke kleurcombinatie van een witte kelk met een blauwlila kroon. De kroon is ietwat onregelmatig met kleinere blaadjes aan de buitenkant, wat mede veroorzaakt dat het geheel van de plant vaak een wat rommelige indruk geeft.
'Delta's Sara' is redelijk winterhard, maar moeilijk in te kuilen, ik heb er zo geen enkele over kunnen houden.
A semi-trailing fuchsia with semi-double flowers in the lovely classic colour-combination of white sepals and light-mauve petals. The corolla is a bit irregular with smaller petals on the outside, which adds to a somewhat unordered appearance of the plant.
'Delta's Sara' is rather winterhardy, but refuses to survive being put under peatlitter.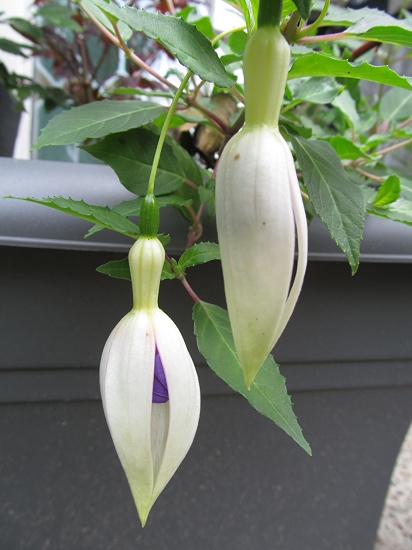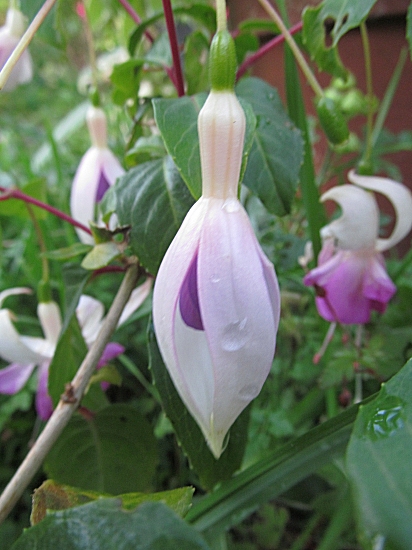 De lange slanke knoppen openen sierlijk als een lampion / The long slim buds open up elegantly like lampions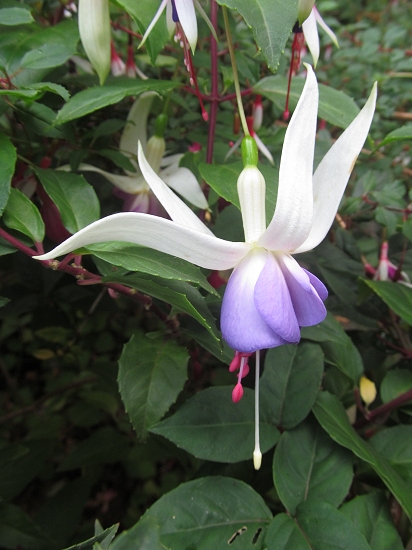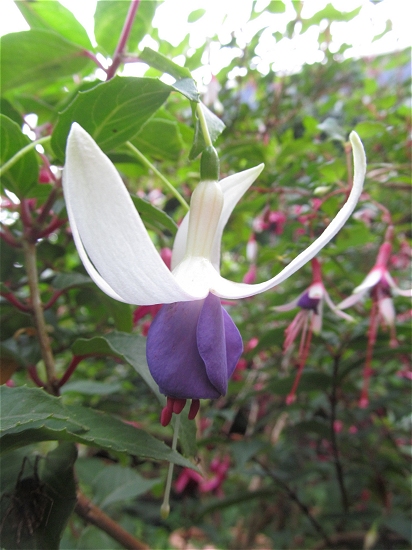 | | | |
| --- | --- | --- |
| Pas ontloken is de kroon nog vrijwel gesloten en lijkt enkel, maar bij het ouder worden ontvouwen zich diverse kleinere en grotere kroonblaadjes wat toch eerder een (half)dubbele indruk geeft. | | Newly opened the corolla still is almost closed, which gives the idea it is a single cultivar; but in ageing various smaller and bigger petals unfold, which offers a semi-double impression. |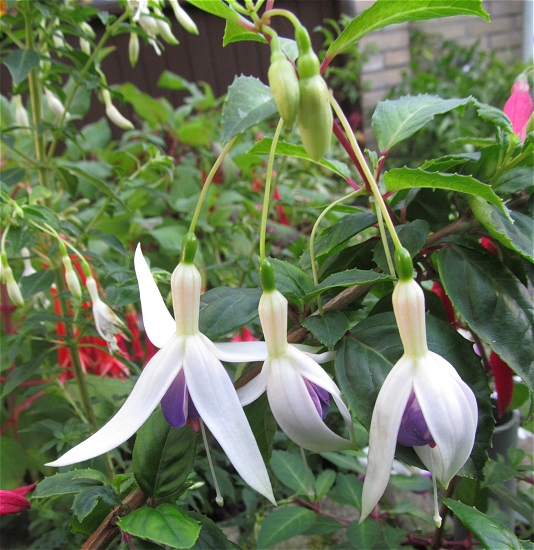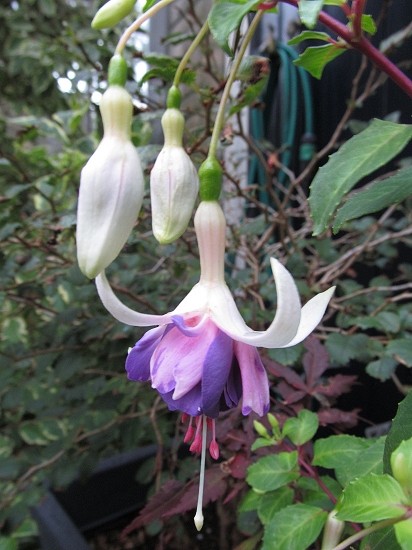 Links: drie bloemen bijeen, deze plant heeft vaker kransen van drie bladeren en bloemen; op de achtergrond is de witte 'Hawkshead' te zien, wat de moederplant van 'Delta's Sara' blijkt te zijn. De foto is van augustus 2016, toen was ik daar nog niet van op de hoogte. In maart 2018 is de zeldzame en tere 'Hawkshead' in een onverwachte 2de koudegolf na een vrij warme week helaas kapotgevroren.

Rechts: een bloem met een tweekleurige kroon.


Left: Three flowers together, this plant often has whorls of 3 leaves and flowers. In the background you see the small white buds of 'Hawkshead', which proves to be the motherplant of 'Delta's Sara'. When I took the picture in August 2016, I didn't know this yet. In March 2018 the rare and tender 'Hawkshead' froze to death, in a second frost after a week of much milder weather.

Right: a flower with large zones of pink in its corolla.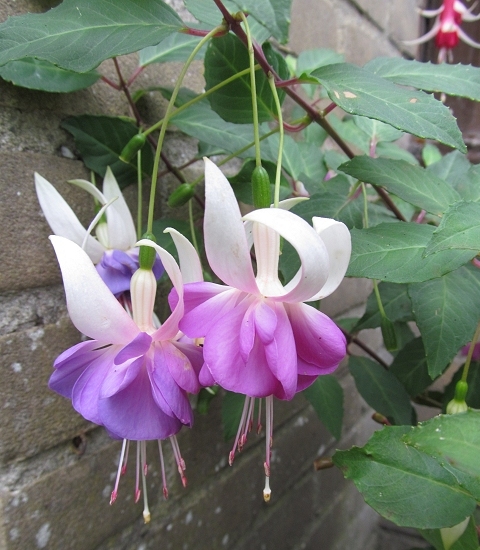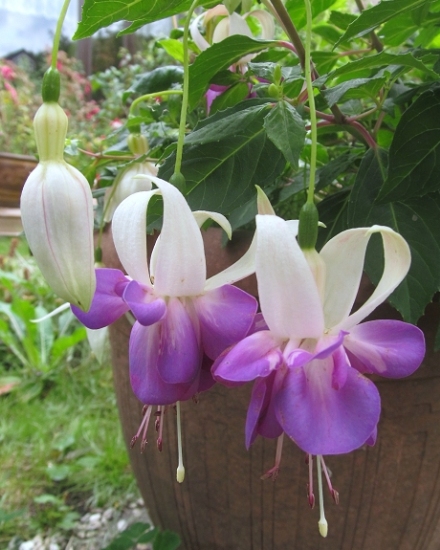 Hoe ouder de bloemen, hoe minder blauw de kroon / When ageing the corolla loses its blue colour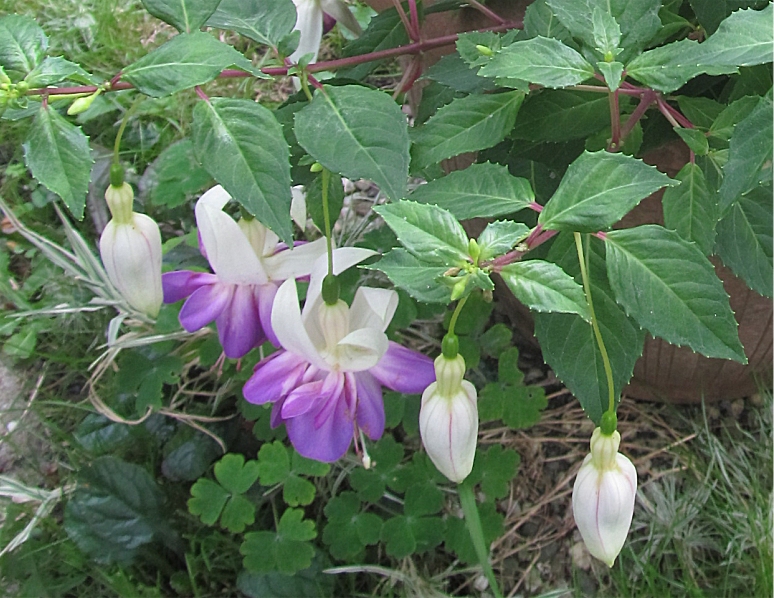 Een detail van de plant, deze zomer (2021) in een bloembak in mijn tuin. De karakteristieke ruitvormige bladeren zijn hier goed te zien.
A detail of a plant in a flower-box during this summer (2021). A gives a good view of the characteristic diamond-shaped leaves.